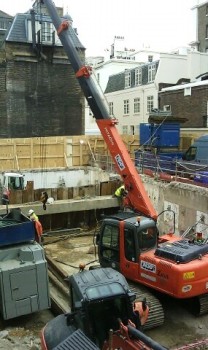 AGD Rental were the first crawler crane hire company in the UK to have an all hydraulic fleet and have been offering fully hydraulic crawler cranes for rent since 1988.
Leading the way once again we were pioneers in offering mini crawler cranes for hire in the UK. We started back in 1996 when we acquired our first IHI CCH50T, 5 tons capacity mini crawler crane.
We next added 3 tons capacity mini crane models Kato KC30 and zero tail swing radius model IHI CCH30T mini cranes to our rental fleet, which in year 2000 increased to a total of 50 units of mini crawler cranes!
Our most recent additions include the Maeda LC755 5 tons mini crane with an incredible boom length of over 15 m the 8 tons capacity Hitachi Zaxis 160LCT mini crawler crane, and our latest new model is the 9 tons Hitachi Zaxis 180LCT mini crane.
The applications for these mini cranes are endless!
We regularly hire them to tunnelling companies for man riding and skipping muck out of shafts, to mini piling companies who use them as service cranes handling casings and cages for mini piling rigs, demolition contractors, steel erectors and formwork contractors just to name a few.
They are so versatile we find new uses for them literally every day!
Pictured here is a Hitachi Zaxis 160LCT 8 tons capacity mini crane on hire to Berryrange in London. The mini crane was used for servicing a Giken JZ100 silent piler with sheet piles in a severely restriced access basement site. The mini cranes ability to work in such tight conditions made it a perfect choice for the sheet piling contractor.
All of our mini cranes are available for hire with experienced CPCS qualified operators or self drive as required.
Our centrally located facility in the heart of the Midlands allows us to offer competitive mobilisation costs throughout the UK, especially with mini cranes as they travel on a standard plant lorry.
We are also happy to receive enquiries to supply mini cranes on hire anywhere in the European Union.
You may download specification sheets for our fleet of mini crawler cranes for hire below:-
IHI CCH30T - 3 tons capacity mini crane
IHI CCH50T - 5 tons capacity mini crane
Maeda LC755 - 5 tons capacity mini crane
Hitachi Zaxis 160LCT - 8 tons capacity mini crane
Hitachi Zaxis 180LCT - 9 tons capacity mini crane