Sidegrip & Impact Hammer Rigs
Sidegrip & Impact Hammer Rigs
16 Nov 2017, 4:23 PM
AGD Rental were the first piling equipment hire company in the UK to offer pile driving rigs for rent and we have being doing so for around 15 years. We have recently invested in 3 brand new hammers and now offer a range of excavator mounted pile driving rigs using both sidegrip vibro and impact hammer technologies.
Pictured opposite is one of our Movax SG45 side grip vibros mounted on a Hyundai R235LCR-9 zero swing radius excavator installing 6 m long Larssen sheet piles in Leeds, West Yorkshire. It was chosen for its small footprint and light weight as there were access restrictions on this heavily congested city centre site. After pitching the piles the same excavator was used to lift one of our Pajot 1400 air hammers to drive the piles to final level.
We also have a more powerful Komatsu PC350LC-8 for hire with the latest model Movax SG75TR sidegrip vibro hammer. This same excavator can be set up to drive steel tubular piles and wooden piles as well as sheet piles and H piles with our accelerated IHC CPE15 hydraulic hammer. With it's quick hitch system it is a perfect partner to switch from the Movax to the IHC impact hammer to back drive piles to a set or to level, as it is light and easy to transport and can be delivered to site quickly and economically.
We have also invested in a new air hammer for back driving sheet piles in restricted access or if only a small amount of back driving is required. Click on the link below to see a video of this air hammer in operation.
All of our excavator mounted driven piling rigs are available for hire with experienced CPCS qualified operators.
Our centrally located facility in the heart of the Midlands allows us to offer competitive mobilisation costs for excavator mounted pile driving rig hire throughout the UK. We are also happy to receive enquiries to supply pile driving rigs on hire anywhere in the European Union.
A photo of our brand new Movax SG75TR side grip vibrator can be seen below. The machine is mounted on a Komatsu PC350LC-8 excavator base. It is pictured here extracting sheet piles in Barrow in Furness, Cumbria.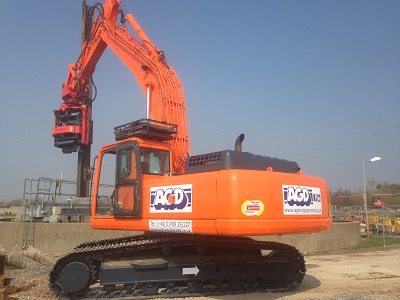 Photographed below is an excavator mounted impact hammer driving wooden groynes on a beach in the Isle of Wight.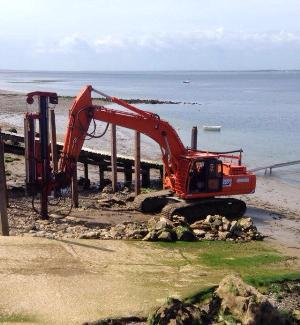 You may download specification sheets for our fleet of excavator mounted pile driving rigs and air hammers for hire below.
Read More