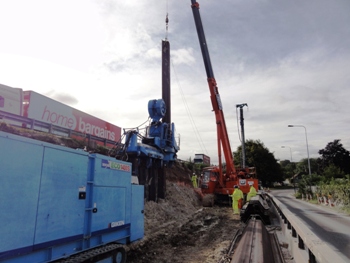 AGD Rental offer the widest range of Silent Piler Equipment for hire in the UK, drawing from the fleet of Giken Europe as their dealer covering the UK, Ireland and the majority of the EU.
Giken is the inventor of silent piling technologies and the worldwide market leader in the manufacture of silent piling equipment for the noiseless and vibrationless installation of steel sheet and tubular piles.

The silent piling technology can be applied in both soft and hard ground conditions, for the installation of both U and Z profile sheet piles, in singles and pairs.
Giken Silent Pilers and Super Crush Pilers are available for hire with experienced operators along with ancilliary silent piling equipment such as Super Jet Reels, Water Jetters, Clamp Cranes, Pile Runners, Unit Runners, reverse walking devices etc.


We welcome enquiries for Silent Piler Hire from anywhere in the European Union.
You may download specification sheets for our fleet of silent pilers for hire below:-
Giken ECO700S/ECO1400S silent piler
Giken GB2-5 7 tons clamp crane
Giken silent and vibrationless piling method
Giken silent pilers - pile width selection chart