Telescopic Leader Rigs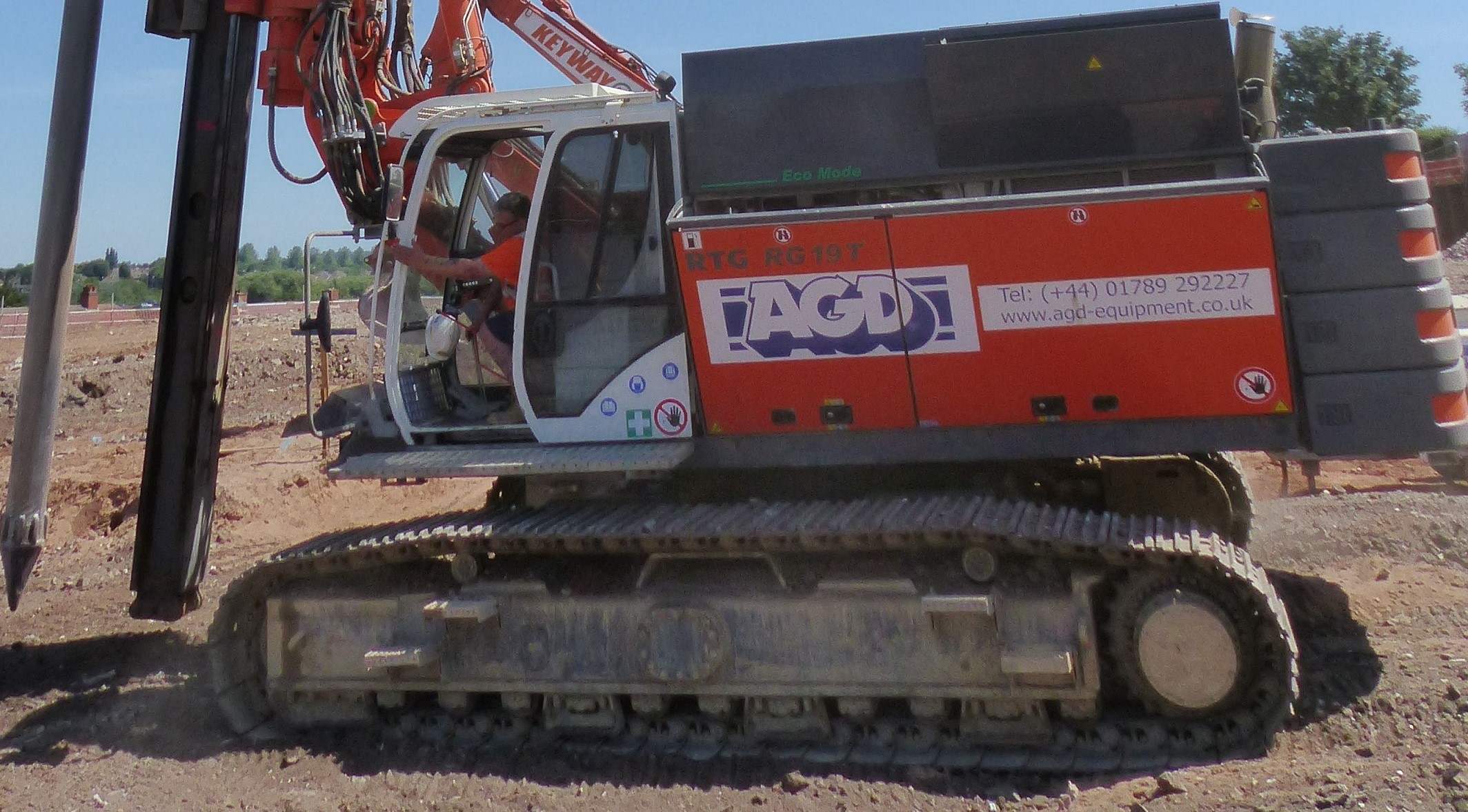 Telescopic Leader Rigs
11 Nov 2023, 3:08 PM
AGD Rental have the most modern and flexible fleet of telescopic leader rigs for hire in the UK. We have once again invested heavily in the very latest generation of RTG telescopic leader rigs with the most powerful vibratory hammers available in the market including RG16T, RG19T, RG21T & RG25S models facilitating pile installation of up to 25 m long. We now have 7 machines in our rental fleet, five of which are fitted with tier 5 engines.
All rigs are equipped with the largest 560 kw (750 hp) engines, most powerful 150 tons vibrators and most with the state of the art Automatic Coupling System which facilitates ultra quick changeover of attachments without the need for any intervention by the operator or any working at height.
RTG have also made improvements to noise and vibration levels which our fleet benefits from. Click here to read the full article.
Click on the thumbnails to see two of our RTG RG19T telescopic leader rigs on hire to JN Piling in Peterborough. One with MR150AVN resonance free variable moment vibrator installing 14 m long pairs of Z sheet piles into stiff clays with the other unit pre-augering with an MB100 rotary head.
The other photo is one of our RTG RG21T telescopic leader rig fitted with an MPZ700 rig mounted pile press, installing 4 AZ26 sheet piles at a time on a site in Central London for Dawson WAM.
Click on the links below to see videos of other machines in action.
The flexibility of the RTG telescopic leader rig system allows us to offer in addition to standard vibratory hammers; leader rig mounted pile presses for 700 mm wide Z piles or 600 mm wide U profile sheet piles, rotary heads for pre augering and CFA piling up to 750 mm diameter, double head rotary systems for installing contiguous and secant piles to to 610 mm diameter and 19 m depth through difficult soil conditions using cased CFA technology (also known as CSP), twin & single paddle soil mixing systems for large diameter soil mixed column installation, ground improvement and soil mixed cut off or retaining walls. They may also be used for CMC type displacement piling / rigid inclusions and vibro stone columns for ground improvement.
We also have a Fambo HR5000 5 tons hydraulic impact hammer which fits to any of our rigs for back-driving sheet piles when required. This can also be supplied on its own to fit other RTG telescopic leader rigs with the ACS system. It can also be used to drive tubular piles, H beams, timber piles and precast piles.
For secant wall and contig wall installation due to the slim design of the specialist Eurodrill twin rotary head the RTG telescopic leader rig can work within 4" of an adjoining wall thus maximising the amount of basement space created. Download our brochure for further details.
All of our telescopic leader piling rigs are available for hire with experienced CPCS qualified operators, banksmen and concrete pump operators as required.
Our centrally located facility in the heart of the Midlands and close to HS2 sites allows us to offer competitive mobilisation costs for telescopic leader rig hire throughout the UK and Ireland.
We welcome enquiries for telescopic leader rig hire from anywhere in Europe.
You may download specification sheets for our fleet of telescopic leader piling rigs, twin rotary heads, CFA piling rotary heads, sheet pile presses and hydraulic impact hammers for hire below.
The attachments we have available are as below:
MR150AVM vibratory hammers
MPU 600 sheet pile press
MPZ 700 sheet pile press
MB100F rotary heads
MB155F rotary heads
DKS 50/100T twin rotary heads
Fambo HR5000 hydraulic impact hammer
Read More