Sennebogen Cranes
Sennebogen Cranes
17 May 2017, 4:49 PM
Sennebogen Crawler & Mobile Cranes
High quality machines manufactured in Germany for over 60 years
Telescopic crawler cranes & mobile cranes 16 tons - 120 tons capacities
Heavy Duty lattice boom crawler cranes 30 tons - 300 tons capacities
Lattice boom crawler cranes & mobile cranes 40 tons - 300 tons capacities most with luffing jib options
Draglines, drop ball, grabbing cranes & piling applications
Sennebogen crawler and mobile cranes are manufactured using quality components such as Caterpillar, Cummins and Deutz engines, and Rexroth hydraulic systems. They are simple and easy to maintain, without complicated electrical or computer systems.
The telescopic range is one of the largest on the market and includes models from 8 tons to 120 tons capacity, all with options of elevating cabs and three models which can be supplied on wheels as an alternative to crawlers. Ideal for industrial or factory use.
The duty cycle range of HD crawler cranes includes machines for applications such as piling, diaphragm wall grabs, casing oscillators, hanging leaders, dragline and grabbing duties.
For crane applications we offer options such as elevating cabs, fly jibs and luffing jibs up to 150 m long!
Sennebogen have a flexible approach and can offer bespoke technical solutions to suit customers specific requirements.
Latest news and job reports
We are exhibiting a Sennebogen 643R 40 tons telescopic crawler crane on stand number 600 at Vertikal Days, Silverstone on the 24th & 25th of May - Please pop in and say hello!
New model Sennebogen 630R 30 tons telescopic crawler crane launched!
Job report of 2 units Sennebogen 643R erecting steel for new Amazon storage facility in Tilbury, Essex
New Sennebogen 1100E 50 tons lattice boom crawler crane launched
New Sennebogen 655R dragline launched - job report
New Sennebogen 120 tons telescopic crawler crane launched
New Sennebogen 300 tons heavy duty lattice boom crawler crane launched
Informative videos and specifications sheets are available above for download. Please contact us for further information or prices.
Links to information on the Sennebogen website:
Sennebogen Crane Product Finder
Sennebogen cranes general brochure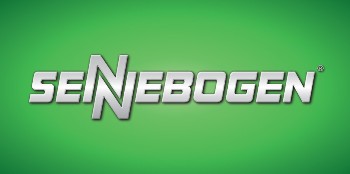 For further information please call 01789 292227 or click on the link to email your enquiry.
Read More