RTG RG16T leader rig with press on hire to DWM in Manchester
6 Jan 2011, 6:41 PM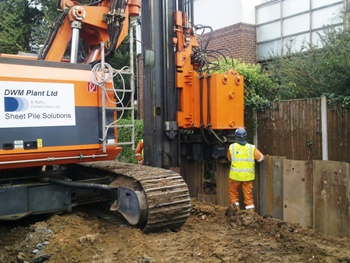 Pictured here is one of our RTG RG16T telescopic leader rigs with MPU press silent piling in Manchester for sheet piling contractor DWM Group.
The leader rig was initially used to pre auger the pile line and pitch the piles. Then the pile press was fitted to silently push the sheet piles down to finished level.
The powerful rig and press together with the skill of our experienced operator all helped to make the job a complete success. So much so a repeat order for a similar job has subsequently been placed with AGD by DWM.