Fambo HR2000 hydraulic impact hammer back driving sheet piles into mudstone
4 Mar 2013, 1:26 PM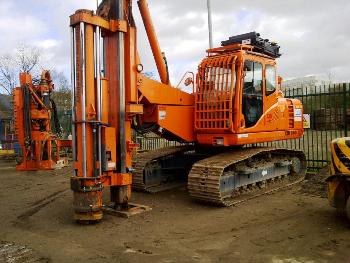 One of our compact CZM EM400H pile driving rigs fitted with a Fambo HR2000 2 tons hydraulic impact hammer has just successfully completed a trial back driving sheet piles previously pitched with a Movax vibratory hammer into mudstone. The 9 m sheet pile was driven just 2 m into the ground by the vibrator and the Fambo was able to easily impact the pile another 3 m before reaching refusal of 10 blows to the inch (even then it was still moving).
This unit is leader mounted on a CZM piling rig which can also be used to drive steel tubular piles, precast piles and wooden piles, however the Fambo range are also available with telescopic leaders suitable for mounting on the dipper arm of a hydraulic excavator, therefore making it an ideal partner for a Movax or excavator mounted vibrator.
Fambo and CZM rigs are available for sale or rental from AGD with experienced operators.
Click on the link to viewa video of the machine in action