Restricted Access Sheet Piling in Middlewich, Cheshire
23 Nov 2012, 12:23 PM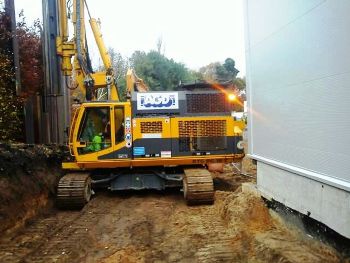 One of our RTG RG16T telescopic leader rigs has just finished installing 100 linear metres of sheet piling on a site for a new Morrison Store in Middlewich, Cheshire for sheet piling specialists DWM.
The machine had to work within the confines of an existing building, and was able to do so as can be seen in the photograph.
The sheet pile retaining wall was installed utilising 5.5 m - 8.5 m long L602 sheet piles through medium dense sands, with a 105 tons resonance free variable moment vibrator.