RTG RG19T telescopic leader rig installing 750 mm dia CFA piles in London
16 Jul 2013, 5:20 PM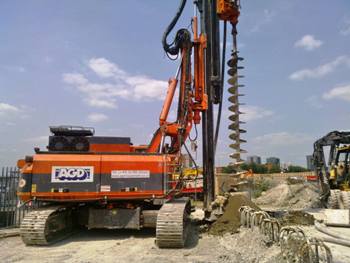 Pictured here is an RTG RG19T telescopic leader rig installing 750 mm dia CFA piles to 15 m in Lewisham, London for Aspin Foundations.
The RTG is most famous for installing sheet piles with a vibrator however it is an extremely versatile rig and with a quick change of equipment can be used to drill CFA piles, secant piles or carry out soil mixing with either twin paddle or triple paddle systems.
These piles are being constructed for a contiguous piled retaining wall, though made ground, gravels and stiff London clay.